Dr. Jane Cooke Wright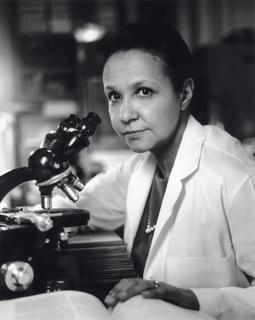 Dr. Jane Cooke Wright (also known as "Jane Jones" or "Mrs Jane Jones") (November 20, 1919 – February 19, 2013) was a pioneering cancer researcher and surgeon noted for her contributions to chemotherapy. In particular, Wright is credited with developing the technique of using human tissue culture rather than laboratory mice to test the effects of potential drugs on cancer cells. She also pioneered the use of the drug methotrexate to treat breast cancer and skin cancer (mycosis fungoids). https://en.wikipedia.org/wiki/Jane_C._Wright
Dr. Wright descended from a distinguished medical family that defied racial barriers in a profession long dominated by white men. Her father, Dr. Louis T. Wright, was among the first black graduates of Harvard Medical School and was reported to be the first black doctor appointed to the staff of a New York City hospital. His father was an early graduate of what became the Meharry Medical College, the first medical school in the South for African-Americans, founded in Nashville in 1876.
Dr. Jane Wright began her career as a researcher working alongside her father at a cancer center he established at Harlem Hospital in New York. Together, they and others studied the effects of a variety of drugs on tumors, experimented with chemotherapeutic agents on leukemia in mice and eventually treated patients, with some success, with new anticancer drugs, including triethylene melamine.
In 1964, working as part of a team at the N.Y.U. School of Medicine, Dr. Wright developed a nonsurgical method, using a catheter system, to deliver heavy doses of anticancer drugs to previously hard-to-reach tumor areas in the kidneys, spleen and elsewhere. That same year, Dr. Wright was the only woman among seven physicians who, recognizing the unique needs of doctors caring for cancer patients, founded the American Society of Clinical Oncology, known as ASCO.
In 1967, Dr. Wright became head of the chemotherapy department and associate dean at New York Medical College. News reports at the time said it was the first time a black woman had held so high a post at an American medical school.
https://www.nytimes.com/2013/03/03/health/jane-c-wright-pioneering-oncologist-dies-at-93.html
While pursuing private research at the New York Medical College, she implemented a new comprehensive program to study stroke, heart disease, and cancer, and created another program to instruct doctors in chemotherapy. In 1971, Dr. Jane Wright became the first female president of the New York Cancer Society. After a long and fruitful career of cancer research, Dr. Wright retired in 1987. During her forty-year career, Dr. Wright published many research papers on cancer chemotherapy and led delegations of cancer researchers to Africa, China, Eastern Europe, and the Soviet Union.
https://cfmedicine.nlm.nih.gov/physicians/biography_336.html
For additional information on Dr. Wright, see this excellent blog post:
https://kathmanduk2.wordpress.com/2011/10/26/black-women-in-america-janet-cooke-wright/